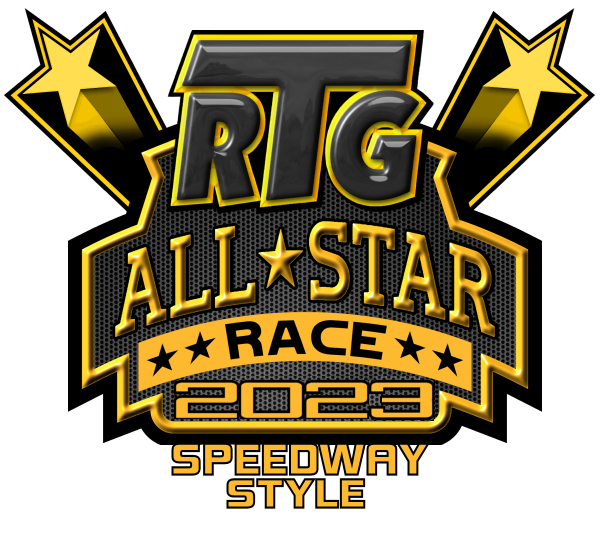 2023 Speedway All-Star Open
and Race will both take place on
Monday, April 17, 2023
---
All active RTG Members are eligible
for the SS All-Star Open
This is the Official list of the drivers Qualified for the RTG Speedway
All-Star race as of the date below. Drivers must meet the active
driver requirements to be determined by the RTG owners.
This year we will be adding a three (3) extra drivers from the Open.
Unless you are on the list below, the Last Chance for you to make the Speedway All-Star Race is through the All-Star Open.
---
Last Updated
4/13/2023 10:40 PM
---
RTG SPEEDWAY
ALL-STAR RACE
Monday, April 17, 2023
---
#
CAR #
Driver Name
RTR
Speedway
Wins
Other Qualiying
Criteria (Past Winners,
Champions, etc.)
1
#1
Jeremy Jeffries
25
2022 SW All-Star Winner
S57 Aero88 Champion
S57 Triple X Champion
2
#88
Grant Wessley
20
2023 SW All-Star Winner
2021 SW All-Star Winner
3
#11
Jeff Czupta
22
4
#15
Sean Prime
17
S56 BBR Champion
S57 BBR Champion
5
#4
Brian Schilling
10
S56 Aero88 Champion
6
#018
Robert Baucom
7
7
#39
Josh Metallic
5
8
#47
Andrew Miller
3
9
#038
Dave Melson
3
S58 Pinty's Champion
10
#193
Jovin Anderson
2
11
#088
Tim Noftsker
2
12
#84
Dante Ricci
3
13
#62
Ronald Lussier
2
14
#111
Ron Hagolin
1
15
#38
Rodney Sullins
2
16
#13
Steeve Melson
1
17
#52
Chris Emry
1
18
#6
Kyle Lawson
2
19
#338
JT Mayhew
1
20
#97
Mitch Bombard
2022 Cup Series Chase Champ
21
#75
Andre Charest
S57 BBR Challenger Champ
22
#8
Glenn Harris
S56 BBR Challenger Champ
23
#143
Bob Dixon
S56 Aero88 Challenger Champ
S57 Aero88 Challenger Champ
24
#007
Doug Cady
S58 BBR Challenger Champ
S58 Aero Challenger Champ
25
#72
Jim Gloude
All-Star Open Winner
26
#35
Frank Rivard
All-Star Open 2nd place
27
#10
Terry Bombard
All-Star Open 3rd place
28
#96
Dave Robbins
All-Star Open 4th place
29
#27
Andre Mongeon
All-Star Open 5th place
DRIVERS ABOVE HERE ARE LOCKED INTO THE SPEEDWAY All-STAR RACE