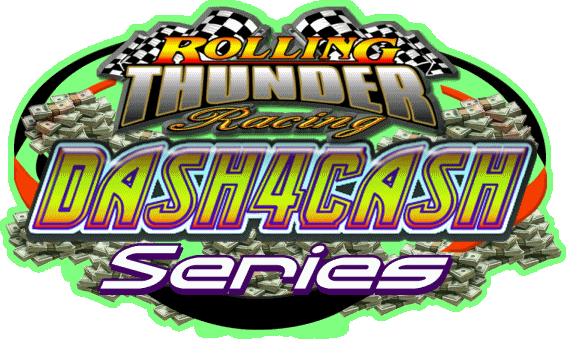 Dash4Cash 2010 Spring Season Info
Season 4
1st race will be on Friday April 16, 2010 @ TalladegaTR

Mod: AeroWar 88 v1.1
12 Week Season
All Tracks are 1.5miles and Larger
Series Officials
Terry Bauman: Lead Series Admin and Race Admin
Tom Bauman: Series Admin and Race Admin
David Canon: Series Admin and Series Treasurer
Car#'s and Entry Fees
View Car# list here
Buy Car#
$5 entire Season
Car#s will be on a 1st pay 1st receive basis.
Race Entry Fee for 1 Race
$6 for each car
Pay for 1/2 Season
$36 for each Car
Includes your Car#
Save $5
Pay for entire Season
$67 for each Car.
Includes Your Car#
Save $10
Drivers racing only 1 race will NOT be required to buy a car#
Drivers racing 2 or more races will be required to buy a car#
---
Incident reports will be done within 48hrs of the race conclusion.
Payouts will be made within 24hrs of the Incident report being done.
If there are no protests Payout are usually made right after the race.
All Payouts will be made to the Car# Owner and then its there responsibility to pay there driver.
Where your Entry Fee and Car# Money Goes
$5 for car#....Goes to RTG to help pay for server, website and League manager costs
$6 Entry Fee
$1 goes toward the Season ending Broadcast race.
$5(about $4.50 after paypal cut) Goes to weekly payouts.
Weekly payouts will be rounded down to the nearest $5.
Example: Weekly Entry's = $78.40
$75 would be paid out that week
$3.40 would go to the Season ending Payout
---
Race Night Format
Tracks will be posted in TS on race night
Day------- Friday
Mod------ Aero88
Field Size---- Broadcast Events = 35cars Non-Broadcast Events = 38cars
Race Length--- 35%
Practice--7:30pm est.
Qualify-- 8:30pm est.
Set-up--- fixed (Unless posted otherwise we will use the fast setups)
Pit Stop Frequency-- 2x's
Weather- 70deg and Clear
Wind----- 1-3 mph
Heat Race Format *if needed*
Race Length = 10%
Yellows = OFF
Any driver causing an incident will be black flagged.
Week#1--------Heat races will be set by random draw.
Weeks#2-12----Heats will be set by Car# points.
Top 16 cars in each heat race will advance to the Main Event.
(This will be 11 cars after race #6)
The 6 fastest qualifying times from both heats not finishing in the top 16 will get a provisional into the Main Event. (3 fastest qualifying times in Broadcast Events)
---
---
Tracks for Season 4 (RTR Season 19)
(These may be subject to change before the season starts)
Race names are subject to change for new race sponsors
Date
month/day/year
Track
Set-up
Broadcast Events
Broadcast Race Sponsors
04/16/10
TalladegaTR
RTR_Talladega_TR
04/23/10
DaytonaTR_v1_4
RTR_DaytonaTR
04/30/10
TalladegaTR
RTR_Talladega_TR
05/07/10
Atlanta05
RTR_Atlanta05
05/14/10
TalladegaTR
RTR_Talladega_TR
05/21/10
RTR SuperSpeedway 2009
fast
05/28/10
TalladegaTR
RTR_Talladega_TR
06/04/10
RTR Motor Speedway
RTR_Talladega_TR
06/11/10
TalladegaTR
RTR_Talladega_TR
06/18/10
Texas_Night
RTR_Texas_Night
06/25/10
TalladegaTR
RTR_Talladega_TR
0702/10
Off Week 4th of July Weekend
07/09/10
Michigan1990
fast
OLRtv Event
Dash4Cash Series
---
Dash4Cash Series Rules
This series will follow the RTR Rules..... See RTR Rules Here
There will be these additions to the RTR rules for this series Only.
1. Flaming will not be Tolerated, this will get you kicked from the race server and TS.
2. We will clear Black Flags for special circumstances ONLY, if you are found guilty of the black flag in the replay review you will be docked 1 lap. We will NOT clear pit road violations under GREEN unless you are involved in a wreck and not the cause of it.
3. The top 5 finishers may be asked for a replay clip of 10 laps under green, So save your replay. (This will be at random races and announced in the last 5 laps of the race)
4. After race #5 the top 10 in points have a Guaranteed starting spot in the Main Event.
(They must still pay there entry fee)
5. Blocking will NOT be allowed until the last 2 laps of any race, this includes high line blocking on Super Speedways. You will receive a Black flag for blocking during the race.
6. There is NO racing below the inside line on any track, doing so will result in a black flag or a -1 lap penalty.
7. All car files are to be uploaded to the RPM CFM.
If you have problems with the CFM email your car file to the Contact us link at the top of this page.

8. All cars will be scored by the 1st driver that drives your car unless otherwise specified by the car# owner.
9. Subs are allowed for all races.
10. If a wreck happens with 2 or more cars and the Yellow does not come out an Admin will throw the Yellow. (This does not include wrecks entering or on pit road)
NO yellow will be thrown with 10 or less laps to go.
11. Teams are Limited to 3 cars per team and Owners are limited to 2 teams.
12. F1 rule...If any team is caught giving orders to have a driver move over to let a team member win or pass for position near the end of the race both drivers will be docked 50pts.
---
Painting Instructions for Aero88's
All cars are to use Real sponsors on them..may be local or national sponsors.
No websites, racing leagues or racing teams may be used as a sponsor on the hood, sides, roof or back of the car. (You may place any of these on the trunk lid if you wish.)
All cars must look like a real race cars. (Old school or modern paint schemes are expectable)
Just keep the paint scheme respectable, No whacked out paint schemes.
All team skins must have there own Identity, May have same sponsors but at least change the base scheme colors for each car. Different sponsors would be nice but not mandatory.
If you need Old School Aero88 contingency's See Terry Bauman in TS and he will help you out.